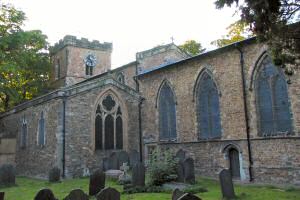 I went, with my wife Anne and youngest son Robin, to an enjoyable Christmas event recently at the Talbot Inn at Belgrave in Leicester.
The event was part of "Sing Christmas", which BBC Radio Leicester organise on an annual basis. They have a performance of a carol service and invite churches and other groups around their area to join in at their own or nearby premises.
The central event was introduced by my old friend John Florance of Radio Leicester, and hosted by another old friend Sandra Herbert, formerly of Radio Leicester.
The event that we went to was at the Talbot, an old public house close to St. Peters Church, Belgrave.
Many of those taking part were from the Parish of the Resurrection, which includes St. Peter`s and also St. Alban`s and St. Gabriel`s Churches in the district. There were also some from the local Scouts, and of course some non-aligned local people.
Everybody thought it was great. Anne, who is a Reader based in the parish, was particularly pleased as she had suggested holding it at the Talbot, believing quite rightly that this would encourage more people to take part.
Looking forward to next Winter`s event!
Posted by colin on Friday 15th January, 2010 at 9:24am