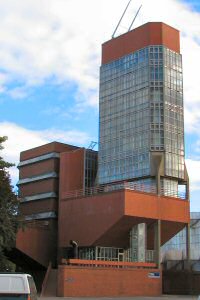 There is an exhibition of sculpture running at the moment in Leicester University`s beautiful Botanic Garden.
Entitled "A Sense of Place", and subtitled "Sculpture in the Garden 2008", the exhibition beautifully complements what is a lovely and quiet area surrounding some of the university`s Halls of Residence.
The garden is known as the Harold Martin Botanic Garden, and is one of the little-known delights of the ancient city of Leicester.
The artists featured are Laura Ellen Bacon; Vibeke Glarbo; Loco Glass; Abu Jafar; Anna Perch-Nielsen; and Jill Randall.
Try to see it before it ends. Admission is free, and it is running until 14th September.
Posted by colin on Wednesday 13th August, 2008 at 8:52am