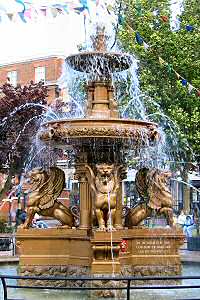 I am planning a special Free sampler Guided Walk in Leicester later this Summer, for Group Organisers - people who organise social events for clubs, societies or workplaces.
In addition to the public programme of walks and Coach Trips which I organise in my capacity as a Blue Badge Guide, I lead walks and give talks on a private basis for groups.
So in a few weeks I will be leading a private version of my popular "Historic Leicester" Guided Walk - an astonishing stroll through two thousand years of history in one of Britain`s oldest towns. The purpose is to give organisers a free taste of what to expect if they ask me to lead a walk for their own members.
A maximum of two people from any club will be welcome to attend. I will announce the date soon.
In the meantime, obviously it`s a question of first come, first served, so I would ask anybody who would like to come along to ring me on 0116 2611576.
Posted by colin on Thursday 2nd June, 2011 at 2:42pm