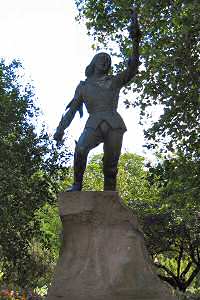 I led a special "Richard III" Guided Walk in Leicester recently for staff of Leicester Shire Promotions, who handle tourism enquiries for the city and the county.
This walk, which I have been leading now for almost twenty years, is very popular indeed now, since the sensational finding the the king`s remains at the Greyfriars.
It seemed a good idea to led the tourism staff have an idea of the content of the walk.
I lead the walk quite frequently as a public event, and it is also available for groups.
Posted by colin on Sunday 1st September, 2013 at 6:19pm