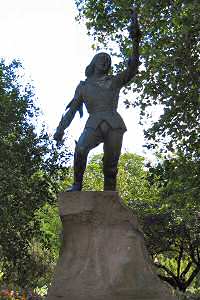 I recently led another "Richard III" Guided Walk in Leicester, where of course this tragic young king`s remains have been found.
This time it was a specially organised walk exclusively for my Facebook friends.
There are a good number of sites in the Old Town which are associated with Richard, who spent his last night in a bed in Leicester, was killed a few miles away near Market Bosworth, and was bought back for burial to Leicester.
There is a growing number of organisations wanting me to lead this walk for their members. Feel free to get in touch to arrange one for your group.
Posted by colin on Tuesday 25th June, 2013 at 9:23am