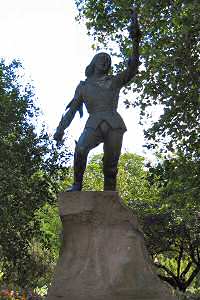 I recently went, with my daughter Gillian`s partner Daz, to the Open Day at the Greyfriars in Leicester that was put on to show the progress made in the archaeological dig aiming to find the remains of Richard III.
Such was the interest in the fate of this tragic young king that there was a long queue waiting to be shown the progress and the finds.
We always knew that Richard had been buried at the Greyfriars in 1485, but had never known the precise spot. It looks very much now as if that spot has been found.
We do not know for sure yet whether the remains found are indeed those of Richard III, but DNA tests will provide the answer. The results are expected around Christmas.
While waiting in the queue, I was spotted by my friend Tony Wadsworth of BBC Radio Leicester, and gave a short live interview.
In view of the enormous worldwide interest (yes, I am getting enquiries from all over the world), I am putting in more dates for my well established "Richard III" Guided Walk.
The section of this website headed "Upcoming Events" will give dates.
Posted by colin on Monday 19th November, 2012 at 4:11pm