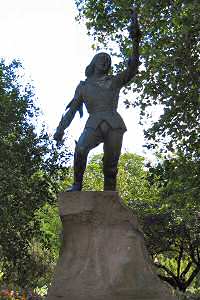 I have a new talk available to give to groups. Like quite a few of the other talks, it has a connection with local history in Leicester.
Entitled "Deeds of the Kings in Leicester", it looks at a number of visits made to this ancient town by various Kings of England.
Probably the most famous of these occasions is when Richard III spent the night at the White Boar, just before his ill-fated visit to Market Bosworth, where he lost his life in battle.
But there have been many others.
Did you know that James I saw through the malice of a young boy who was accusing innocent old ladies of being witches? Or that his son Charles I successfully besieged the town during the Civil War?
It`s a fascinating subject and ready for delivery to your group. Just get in touch.
Posted by colin on Friday 9th July, 2010 at 7:54am