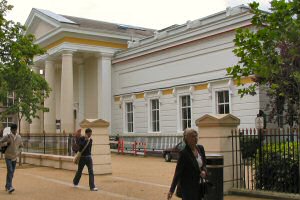 The council-run New Walk Museum in Leicester is to host an important art exhibition during the Spring.
Entitled "Matisse to Freud: A Critic's Choice", it is drawn from the collection amassed by the late Alexander Walker, one of the country's best-known film critics.
His collection was bequeathed to the British Museum in 2003.
I met Alexander Walker a number of times while managing cinemas in the West End of London.
The exhibition includes works by such outstanding artists as David Hockney, Lucien Freud, Henri Matisse, Joan Miro, Pablo Picasso and Bridget Riley.
During the run of the exhibition, there will be a number of associated talks.
"Matisse to Freud: A Critic's Choice" runs from 27th January to 18th March. There is no charge for admission.
Posted by colin on Friday 26th January, 2007 at 6:39pm