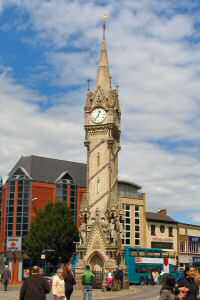 I recently took part in a live radio broadcast from near the Clock Tower in Leicester.
BBC Radio Leicester presenter Tony Wadsworth presents this programme every Saturday morning, with some guests, and also talks off the cuff to passers by.
It`s always nice to take part in radio programmes, particularly when you don`t know what subject is going to come up!
Leicester was the first city to be chosen by the BBC to have its own local radio station.
Posted by colin on Tuesday 17th April, 2012 at 9:03am