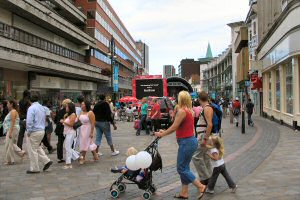 Once again, I was in Leicester City Centre for the annual Good Friday event.
For a good number of years, there has been an event on this day, hitherto known as "Christ in the Centre".
This year, it all took place in Humberstone Gate, and took the form of a play, but also of course with songs and prayer. The title was "Leicester@The Cross".
The usual thousands of people filled Humberstone Gate.
Posted by colin on Monday 28th July, 2014 at 1:46pm