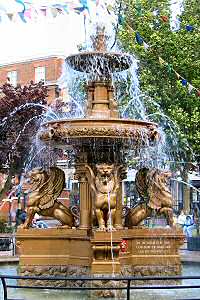 The Leicester Tourist Information Centre in Town Hall Square has been given an accolade by Visit England. It is the highest ranked TIC in the East Midlands and the secomd best in the whole country, out of three hundred.
Operated by Leicester Shire Promotions, it has a fine central location in this buzzing and historic city.
Being runner up follows a "mystery shopper" exercise, by email, by telephone and in person.
Leicester achieved a score of 96% for face to face visits, and also 96% for service via email.
For services via the telephone, notoriously difficult, Leicester achieved a staggering 90%.
Martin Peters, Chief Executive of Leicester Shire Promotions, is understandably delighted. He commented "this endeavour for high quality customer service reveals the dedication of the staff here".
Posted by colin on Monday 25th January, 2010 at 8:51am