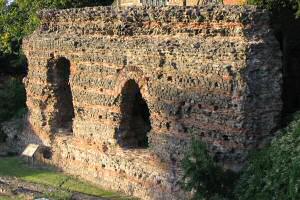 There was an interesting talk recently at the Reference Library in Leicester City Centre.
The talk was given by Laura Hadland, Senior Curator at the excellent Jewry Wall Museum, and was on the subject of "Roman Leicester".
Laura pointed out that Leicester was an important Roman town, and can fairly claim to be one of the oldest settlements in Britain, after Colchester.
She spoke about our knowledge of the town, known in the Roman period as Ratae Corieltauvi, and about how people lived, touching on food, clothing, customs etc.
Laura also told us of some of the important finds that have come to light during archaeological excavations over the last few years.
Posted by colin on Monday 30th March, 2009 at 7:23am