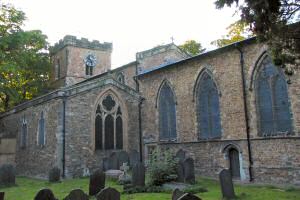 Last Sunday (27th June), the last services were held at two churches in Leicester - St. Peters Church, Belgrave and St. Gabriel`s, also at Belgrave.
St. Peter`s is a very old church which dates back to the 12th century, while St. Gabriel`s was opened in the 1960s.
The two churches were part of the Parish of the Resurrection, which covers the part of Leicester known as Belgrave, once a village but now chiefly known for the Golden Mile, with its curry houses, sari shops, jewellers, sweet shops and world famous Diwali lights.
Falling attendances at the churches, coupled with the high cost of heating and repeated vandalism, led to a long and detailed consultation and a decision by the Diocese of Leicester to rationalise the situation and make the best possible use of resources.
There is still an Anglican church in the parish, St. Alban`s, which is a little over a hundred years old, and where most services will now be held.
My wife Anne was at both services on Sunday, in her capacity as Reader, and the Bishop of Leicester, the Right Reverend Tim Stevens, officiated.
Posted by colin on Tuesday 29th June, 2010 at 7:57am