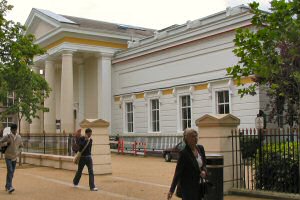 There is an exhibition on the life and times of the playwright Joe Orton at the New Walk Museum in Leicester between March and April.
Entitled "Ortonesque", the exhibition takes a chronological look at the life of Orton, who was born on Leicester's Saffron Lane estate in 1933. He won a scholarship to RADA in 1951, and there met Kenneth Halliwell, who became his mentor and lover.
Joe Orton's plays were always outrageous, perhaps befitting a man who was openly gay in a period when this was still illegal. His famous works include "Entertaining Mr Sloane" and "Loot".
The term "Ortonesque" is often used now to mean "outrageously macabre but wildly funny".
In 1967, Joe Orton was found dead, having been murdered by Halliwell, who thereupon killed himself.
Leicester has produced a number of prominent writers in the 20th century. As well as Orton, these include C. P. Snow, Sue Townsend and Anne Fine.
The exhibition "Ortonesque" runs from 3rd March to 7th May. Admission is free.
Posted by colin on Tuesday 27th February, 2007 at 8:52am