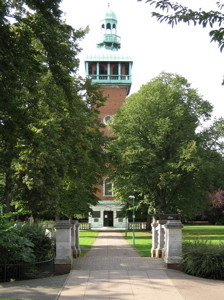 The Adult Education Centre in Leicester was the venue for a talk which I gave recently.
"Places of Interest in Leicestershire and Rutland" is part of a course run by the centre from time to time for people who are approaching retirement. Advice on many practical subjects (health, benefits, insurance etc) is given by experts in their fields.
My function is to give an idea of how to have an enjoyable retirement without going too far away and without breaking the bank.
So I point out a range of interesting places within easy reach of Leicester, such as museums, parks, historic churches, steam railways etc etc.
I also tell the group about the free and discounted public transport that they can enjoy once they achieve that magic age of 60.
If you are yourself approaching retirement age, why not enrol on one of these courses? Some of the more enlightened employers are prepared to fund their staff's attendance - it wouldn`t hurt to ask!
Posted by colin on Thursday 8th May, 2008 at 8:54am