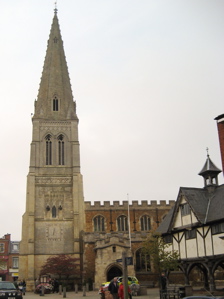 I recently led a private Guided Walk in the lovely market town of Market Harborough.
It was for members of the Cambridge Walking Group, who had been staying in the town for a couple of days.
Market Harborough`s story involves the Civil War, coaching inns, Thomas Cook and the notorious Liberty Bodice. The group enjoyed it very much, but it was so cold that they asked if I could talk to them inside, in the warm, instead.
So, being always willing to oblige, I took them into the Sugar Loaf (a Wetherspoon`s pub), where I told them what they would have seen if they had continued!
I am always happy to lead Guided Walks especially for groups. Just ask.
Posted by colin on Tuesday 18th June, 2013 at 9:01am