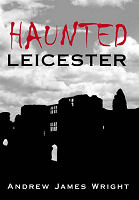 I gave a talk recently for members of the Park Lodge Project at Clarendon Park in Leicester.
The project aims to bring homeless young people back into general society, encouraging them to attend courses and acquire qualifications.
I called the talk "Haunted Leicester", and based it loosely on the very popular Guided Walk of the same name which I lead aropund Leicester`s Old Town.
As part of the evening, I encouraged the members to tell me if they had themselves had any ghostly experiences, and several of them had.
I am very happy to talk about ghosts and hauntings to other groups. Just get in touch.
Posted by colin on Wednesday 14th April, 2010 at 8:07am