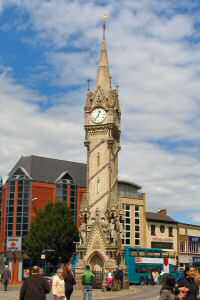 I recently had the pleasure of showing a party of French schoolchildren around some of the most interesting features of Leicester.
The children, aged from eight to seventeen, were a choir named Les Petits Chanteurs de Strasbourg. They were in England as the guests of the Leicester Symphony Orchestra, with whom they took part in some concerts.
The orchestra asked me to organise and lead the walk, and because of the large number of children we split them into two groups. An interpreter accompanied me, and I arranged for the other group to be shown around by my friend and fellow Blue Badge Guide Caroline Roberts.
After the walk, there was a reception (and tasty food) at the Town Hall, with the Lord Mayor of Leicester.
I hope the choir will bring back a positive impression of our fine and historic city.
Posted by colin on Sunday 1st August, 2010 at 5:17pm