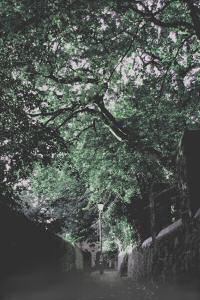 There will be a chance later this year for Group Organisers to see what fun a Ghost Walk is.
I am arranging an exclusive "Haunted Leicester" Guided Walk for organisers. "Haunted Leicester" is, of course, a very popular walk indeed, traversing the lonely streets of Leicester`s half-forgotten Old Town, where many ghosts are said to lurk.
This will be entirely free, but limited to group organisers. I hope, of course, that they will all be moved to ask me to lead a walk for their own groups.
The organisers can represent any sort of group, be it Womens Institiute, Townswomens Guild, Rotary, Round Table, Lions, Probus, U3A, Scouts, local history society, church, school etc.
Two people from any group (such as organiser and partner) can attend, but obviously I am going to have to limit the numbers.
So I am inviting anybody who would like to take part to telephone me as soon as possible, on 0116 2611576.
Posted by colin on Thursday 27th May, 2010 at 7:54am