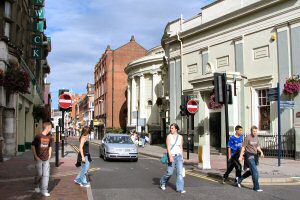 I went on an interesting Guided Walk in Leicester recently, entitled "Floorscapes in the Cultural Quarter".
It was led by Bhajan Hunjan, and run as part of the Library Club based at the Central Lending Library in Belvoir Street.
Bhajan has been responsible for organising the plaques which have appeared over the last couple of years on the pavements at the entrances to Leicester`s Cultural Quarter.
The Quarter itself, an important element of Leicester`s ongoing regeneration, contains the LBC Centre, the former Odeon Cinema (now known as Athena) and Curve, the iconic new theatre designed by Rafael Vinoly. Nearing completion is the Digital Media Centre.
Bhajan showed us the various plaques, and explained what led her to include certain items in the design.
Posted by colin on Thursday 8th October, 2009 at 7:53am