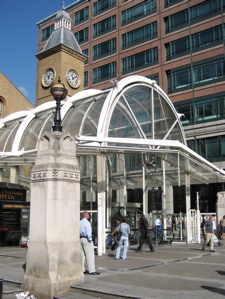 Yesterday (2nd February) was a very significant anniversary for me. It was fifty years since I started work.
On 2nd February 1960 I began working as a clerk for Mory and Company, shipping and forwarding agents, in a basement office in Cunard Place, off Leadenhall Street in London.
I started work at 5 guineas a week (that`s five pounds five shillings, or £5.25 in today`s money). When I mention this while giving talks (in particular "Adventures of the Bearded Cinema Manager"), I always have the same response, with members of the audience telling me that they started work at lower wages.
However, their derision ceases when I point out that from my five pounds five shillings a week I had to pay three pounds ten shillings to actually get to work. Travelling forty miles each way on the train from Westcliff to London is a little different from strolling round the corner to the factory.
In addition to my eight hours of work each day, there were about three hours of travelling, when the trains were on time, which they sometimes were. Every other Saturday, I spent three hours traveling to do three hours work. It wasn`t that Saturday working was really necessary, as the work would still have been there on Monday, but our bosses had the power to make us do it.
I was not happy in my employment in the City, and moved several times to new employers, this being the best way to get a pay rise. The job was deadly boring. It wasn`t that I couldn`t do it, just that it bored me to tears.
Sometimes I would travel on the line to Fenchurch Street Station, and sometimes to Liverpool Street Station. Southend is fortunate in having two railway lines from London.
Eventually I left the City, and joined the Rank Organisation, leading to a long career managing cinemas and theatres. There will be a lot of people who will think of cinemas when reading my name!
However, in the 1990s I reinvented myself, as the saying goes, and qualified as a Blue Badge Guide in 1994. It is that aspect of my life for which I am best known now, organising Guided Walks, Coach Trips and talks from my base in Leicester.
That train ride to London, and the trepidation I felt, doesn`t seeem anything like fifty years ago!
Posted by colin on Wednesday 3rd February, 2010 at 10:03am