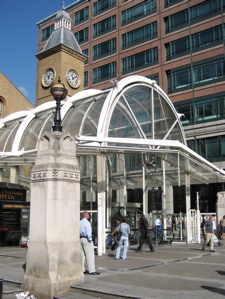 I led a couple of Guided Walks in London recently.
Twice a year, in Spring and Autumn, I have a day in London, when I lead two different walks. Like that, the people coming a long way, for example from Southend or Leicester - including myself! - only have to pay one train or coach fare and can still take part in both walks.
Of course, you don't have to go on both if you're only interested in one of them.
This time, the first walk was "Spitalfields", and we started outside Liverpool Street Station at 1pm.
Spitalfields is a historic area of London, where the City meets the East End, and has a wealth of interest, including the remains of a mediaeval priory; the elegant houses built by Huguenot refugees; lots of eating houses in Brick Lane, now universally known as Bangla Town; a little known connection with John Wesley; and Nicholas Hawksmoor's wonderful Christ Church, Spitalfields.
Then later on, it was "Haunted London", starting outside Fenchurch Street Station at 5pm.
On this walk, we delved into some of the hidden alleyways in search of the ghosts of Old London Town.
The next day in London is on Saturday 24th March, with "Churches of London" at 1pm, and "Jack the Ripper" at 5pm.
You can book for these as soon as you like.
Posted by colin on Sunday 17th December, 2006 at 10:30am