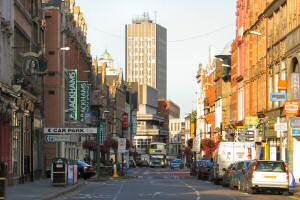 The historic city of Leicester is undergoing considerable changes at the moment, involving a great deal of regeneration.
In particular, two major schemes are due to be completed in 2008.
The Performing Arts Centre is due to open during the year. This most unusual building is at the heart of what is being called the Cultural Quarter.
It would probably be stunning if it were in a stand-alone position with some sort of a square in front of it. As it is, it is hemmed in by other buildings, including the former Odeon Cinema, St. George's Church and the brilliant Alexandra House.
The architect is Rafael Vinoly, who has an excellent worldwide reputation.
It is to take the place of the much respected Haymarket Theatre, famous for originating plays and musicals which have gone on to long West End runs, which is already closed.
The Shires Shopping Centre, one of the best in the country, is being more than doubled in size, and its name is being changed to Highcross Centre. The extension will include a John Lewis store and a multi-screen cinema.
This too is due to open in 2008.
Hopefully, all this will lead to increased prosperity for a city that potentially has everything going for it.
Posted by colin on Friday 4th January, 2008 at 9:36am