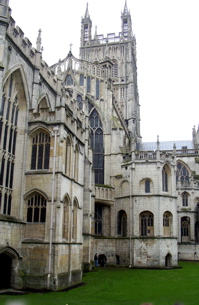 I recently spent the day in the historic city of Gloucester, on a familiarisation visit organised by Gloucester City Council.
These days are always most interesting, and it is always nice to chat to other people who have come from different areas to get a better idea of what the place has to offer.
On this occasion, I was able to chat to visitors from Bath, Clacton, Gravesend and London, as well as a young lady representing the Severn Valley Railway at Bewdley.
For most of the day, we were in the capable hands of the excellent Blue Badge Guide Philip Moss.
Starting with coffee at the National Waterways Museum, we were given a tour of this first class museum, followed by a stroll around Gloucester Docks.
Some of us had a short trip on the "Queen Boadicea II" along the canal, passing the ruins of Llanthony Priory.
Then it was lunch, of which we partook at Vinings Restaurant in the Docks area.
Philip then took us into the Blackfriars. I was aware that it was there, but had no idea how extensive the surviving buildings are. It is hoped to open the Blackfriars to the public next year, including the Great Hall, which would be eminently suitable for concerts.
We had a quick look at the Tailor of Gloucester's House, immortalised by Beatrix Potter, before visiting the magnificent Gloucester Cathedral.
The final visit was to the Guildhall, where we had afternoon tea.
I like Gloucester very much anyway, but I was very pleased to get an extra expert insight into the city.
Posted by colin on Tuesday 4th December, 2007 at 8:57am