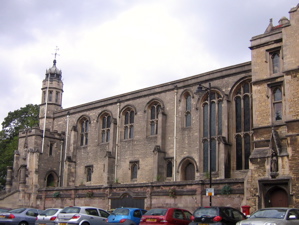 Once again recently, I went on one of Woods Coaches` excellent Coach Trips, this time venturing into Lincolnshire.
I do enjoy going on excursions run by pople other than myself, and I know Woods to be a very good company, as I hire coaches from them for my own trips.
On this occasion, having left St. Margarets Bus Station in Leicester, we travelled out through the tiny county of Rutland and made a stop at Stamford. This is a town where I often lead Guided Walks, so I know it well, but it is a lovely town, so it is no hardship at all to be able to have an unexpected stroll there.
After that, we continued through the Lincolnshire countryside until we reached our main stop of the day, Spalding. I strolled happily around the town, found a nice teashop named Penningtons, where I had a coffee and teacake, visited St. Mary and St. Nicholas Church and strolled around the lovely gardens of Ayscoughfee Hall, as well as saying hello to the girls in the Tourist Information Centre.
Having left Spalding, we toured some of the pleasant towns and villages in the area, including Donington, Market Deeping and Sleaford.
We stopped at the well known Baytree Nurseries at Weston, where I had a coffee, and made a brief stop on the way home at Peterborough Services.
As always, it was a relaxing and enjoyable day.
Posted by colin on Tuesday 2nd June, 2009 at 7:38am