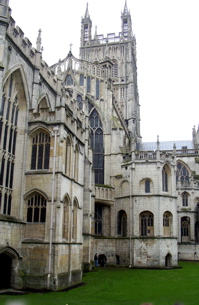 A very successful Coach Trip recently was the "Forest of Dean Tour".
This was this year's Autumn Colours Tour. Each year I run an excursion to a forested area in the Autumn, to take advantage of the trees in their beautiful Autumnal hues of red, orange and gold.
Setting off as usual from St. Margarets Bus Station in Leicester, we made our way Westwards until we reached the historic old cathedral city of Worcester, where we made our coffee stop at Royal Worcester Porcelain.
The first of the three stops was at Gloucester, another fine old cathedral city.
After that we started to wend our way through the lovely Forest of Dean, going through a number of small towns including Lydney and Cinderford.
The next stop was at the very beautiful Ross-on-Wye, with its wonderful position on the River Wye.
Then it was back through the forest, making an extra and much appreciated stop at St. Briavels, followed by another short stop at Tintern Abbey.
The last of the three stops was at Chepstow, with its impressive castle and town gate.
On the way back to Leicester, we stopped for refreshments at Strensham Services.
My Visitors' Book has comments such as "up to the usual high standard", "great trip and commentary", "excellent day out", "enjoyed scenery and locations very much".
The Autumn Colours Tour in 2008 will be "Thetford Forest Tour" on Wednesday 5th November. You can book on this as soon as you like.
Posted by colin on Wednesday 19th December, 2007 at 9:22pm