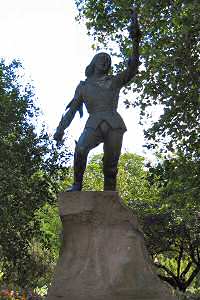 I made an appearance on BBC Radio Leicester recently.
Leicester is one of the cities bidding to be City of Culture in 2017. One of the other candidates is Southend.
The Southend MP David Amess made an extraordinary comment. Not content with the perfectly acceptable statement showing Southend in a favourable light, he belittled the other cities (including Leicester, of course), saying that not only do these other places have no culture, they wouldn`t even recognise it.
Knowing that, although I am a Blue Badge Guide living in Leicester, Southend is my home town, the BBC rang me to get my comments, which I was happy to give, and the interview was conducted on the phone while I was on a National Express coach on my way to London!
Leicester, in fact, has not only a long and hugely interesting history (Richard III, for example), but also has a vibrant culture.
David Amess is probably aware by now that I apologised for him on air, pointing out that insults are not helpful or even honourable..
Posted by colin on Sunday 26th May, 2013 at 10:06am