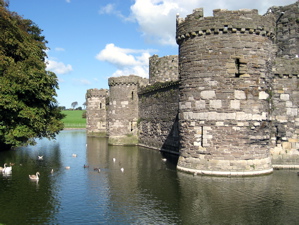 I went on a Coach Trip, as a normal passenger, to Beaumaris on the Isle of Anglesey recently.
The excursion was arranged by Woods Coaches of Leicester, the company from whom I hire coaches for my own trips.
We stopped in the morning at the motorway services at Sandbach, where I was able to stoke up with a good breakfast!
Once on Anglesey, we made an unpublicised stop, at Llanfair PG, the village with the world-famous long name.
Beaumaris is a personal favourite of mine, a situation enhanced by it being beside the sea.
I was able to have another look at Edward I's splendid Beaumaris Castle, have a walk along Beaumaris Pier, with its superb backdrop of the mountains of Snowdonia, and pay another visit to St. Mary and St. Nicholas Church.
And this is always very important to me - I had a really nice cup of coffee and teacake at an excellent teahouse in Castle Street, the local version of a High Street.
Laer on, we made a stop at Llangollen, another pleasant town on the River Dee.
And on the way home, we stopped at the new Norton Canes services on the M6 toll motorway.
I always enjoy travelling as a passenger on somebody else's trip, and this one didn't let me down.
Posted by colin on Friday 24th November, 2006 at 10:17am