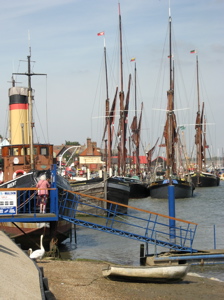 I led another one of my very popular Coach Tours recently.
This time it was "Maritime Essex Tour", looking at coastal aspects of my native county of Essex. As always, I gave a commentary along the way, bringing to life the towns and villages encountered along the route.
We left St. Margarets Bus Station in Leicester as usual, and made our way South Eastwards, stopping for coffee at the Animal Rescue Centre at Wood Green, near Huntingdon.
Our first proper stop was at Old Leigh. Famous for cockles and other seafood, this was once a thriving shipbuilding town where the "Mayflower" was probably built.
We then drove along the Seafront at Southend, of course seeing Southend Pier, the longest in the world.
We made a short stop at Battlesbridge, at the head of the Crouch Estuary, which has been developed as an attractive antiques centre.
From there, we drove to Burnham-on-Crouch, a sleepy little town which is nevertheless England`s second most important yachting centre.
And the final stop was at delightful Maldon, at the head of the Blackwater Estuary, seeing the famous Thames Barges. Maldon is a charming little town, famous for the production of sea salt, and for the battle that was fought in 991 AD.
On the way back to Leicester, we made a comfort stop at Cambridge Services.
Posted by colin on Tuesday 16th July, 2013 at 4:58pm