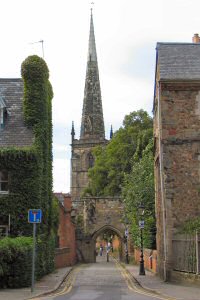 In the run up to Christmas over the next few weeks, I tend to be busy giving talks and leading Guided Walks in the Leicester area especially for groups on seasonal themes.
In addition to the usual ones, I have some special talks and walks area for the festive season.
Group organisers might like to think about one of these for Novermber / December 2009. Do feel free to get in touch and make a booking. Now is not too early.
Here are some of the talks that are available..
"Ding Dong Merrily on High". The stories behind everybody`s Christmas carols, including "God Rest You Merry Gentlemen", "O Come All Ye Faithful", "Silent Night" and "While Shepherds Watched Their Flocks By Night". Some were written by famous poets, some by famous composers, and some were written under unusual circumstances.
"The Holly and the Ivy". Christmas traditions, especially the surprising number which have litle to do with Christmas as a Christian religious festival, but have been added, either from other cultures or invented in modern times. Among those discussed are Christmas cards, Christmas crackers, Christmas pudding, holly, mince pies, mistletoe and pantomime.
"Who is Santa Claus?". This much loved character with many names (do you call him Father Christmas? or Santa Claus? or just Santa?) is an important part of modern Christmas, but you can look for him in vain in the New Testament. So where does he come from? He has many strands to his background, and from a good number of cultures, and not all of them are jolly and cuddly - some are distinctly dark.
"Christmas Readings - Sacred and Otherwise". A selection of readings, some from the Bible, some from famous writers and inevitably some from "anon", in celebration of the much-loved festive season.
All these can be adapted for a Guided Walk, and there are also some walks specially designed for Christmas.
Such as....
"The Ghosts of Christmas". Around Christmas, one of the most popular pursuits is the telling of spinechilling ghost stories, and this walk continues that tradition.
"Deck the Halls". A look at the wonderfully decorated streets and shops, not to mention the Christmas trees, as Leicester celebrates Christmas.
"Mediaeval Leicester at Christmas". Ancient and picturesque towns have a particular appeal at Christmas, when everybody is full of good cheer and goodwill towards one`s fellows. Leicester certainly fills the bill in this respect, being one of the oldest few towns in England.
I look forward to hearing from group organisers. Happy Christmas!
Posted by colin on Tuesday 25th November, 2008 at 9:05am