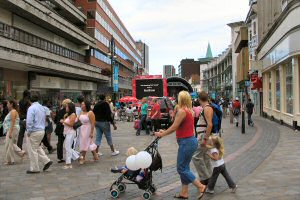 On Good Friday, my wife Anne and I joined the thousands who made their way into Leicester City Centre for "Christ in the Centre".
This annual event, which has been staged since 2003, retells the story of Jesus` last days, culminating in the Crucifixion and Resurrection. It is the largest Good Friday event in the country.
This year, after an address by Tim Stevens, the Bishop of Leicester, the action began at St. Peter`s Square in the Highcross shopping centre, and moved via pedestrianised streets to the climax in Humberstone Gate.
"Christ in the Centre" is a moving event, and if you have not yet visited Leicester for it, I suggest that you do so in 2011.
Afterwards, Anne had to go another Good Friday event at one of the churches, but I went for a meal at the Terra Cotta restaurant with several friends, who included a couple of the actors from "Christ in the Centre".
Posted by colin on Friday 23rd April, 2010 at 1:59pm