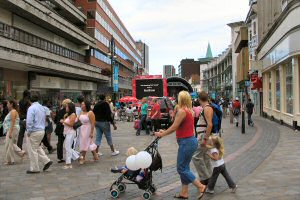 I attended the excellent Good Friday event in Leicester "Christ in the Centre".
This year was the tenth anniversary production. I have attended all except one where I had to stay in for a council workman!
"Christ in the Centre" is a re-enactment of the last days of Jesus Christ, culminating in the harrowing Crucifixion and joyous Resurrection.
It took place this year entirely in Humberstone Gate, and as always drew a huge crowd. The Bishop of Leicester, Rt Rev Tim Stevens, addressed the crowd, and ten thousand people sand Isaac Watts` "When I Survey the Wondrous Cross".
I had a meal with friends, some of whom had been involved in the production, at the Terra Cotta restaurant afterwards.
Posted by colin on Friday 27th April, 2012 at 10:02am