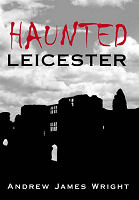 I led a private Ghost Walk in Leicester recently.
This time it was for the Royal Institute of Chartered Surveyors, who felt that a good haunting would be good after work activity.
I took them on their own version of my very popular "Haunted Leicester" walk, boldly going along the eerie streets of Leicester`s half forgotten Old Town, where many ghosts are said to lurk.
And afterwards, we all repaired to the Globe, to partake of a buffet supper.
I will be happy to arranged a Ghost Walk for your group.
Posted by colin on Thursday 4th July, 2013 at 9:07am