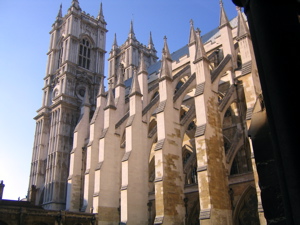 A little book that you may find interesting is "Byways of Westminster".
Subtitled "What the tourist rarely sees", it is written by James Dowsing, and is a series of short articles about various aspects of this historic city, not technically part of London, in encyclopaedia style.
Before the A-Z part actually starts, there is a short piece called "Famous Sons", dealing with a number of prominent men who have lived in Westminster. These include John Milton, Robert Herrick, Henry Purcell and Edmund Spenser.
Then the encyclopaedia has entries running from "Abbey Garden" to "Westminster Theatre", including "Burial Ground", "Cockpit Stairs","London Transport and Epstein" and "Middlesex Guildhall".
Reading this splendid little book will show that there is far more to Westminster than Westminster Abbey, the Houses of Parliament and Big Ben.
Posted by colin on Tuesday 30th October, 2007 at 8:27am