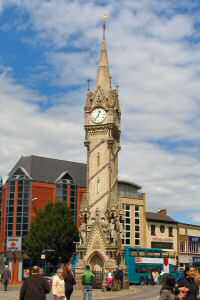 I made another appearance on BBC Radio Leicester recently.
This time it was on a Saturday morning, on my friend Tony Wadsworth`s show, which he runs from around the Clock Tower in Leicester City Centre.
In addition to having the odd arranged guest, Tony accosts random passers by (in the nicest possible way) for a quick chat. It`s a very good way of making people feel involved.
Me? I`ll talk about anything you like! Just wind me up and let me off the lead ....
Posted by colin on Wednesday 13th March, 2013 at 11:04am