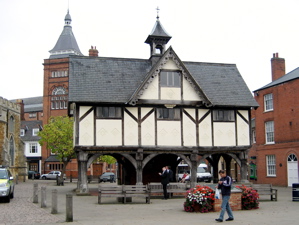 I led a Haunted Walk in Market Harborough recently.
During the dark days of Winter, I usually lead a good number of what are often known as "ghost walks". Most of these are in Leicester, but also in some other places, notably London. Some are public events, while others are private walks for clubs.
The Market Harborough branch of Mind contacted me and asked if I could lead such a walk in their town. Well, of course I was delighted to do so. I know the town well, and lead walks there looking at its history and heritage.
We started at the United Reformed Church, and did a tour of the town, punctuated by the telling of ghost stories.
What made it special was that many of those taking part were in fancy dress, so I had a good collection of ghosts, vampires and witches with me.
I am very happy to lead similar walks in your town or village. Just ask.
Posted by colin on Monday 24th December, 2007 at 8:20am