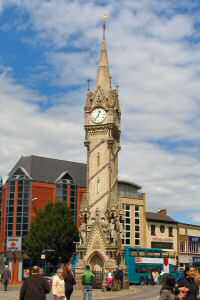 There are a few seats left on my annual Free Mystery Tour, which takes place next Wednesday 23rd February.
This year, there is a deposit of £5. I have instituted this because every year, despite the fact that there is normally a waiting list of others wanting to take part, quite a few who have booked have not turned up. They haven`t paid, you see.
However, this year it`s even better than free!
The £5 is not refundable in the event of not attending. However, on the day, the £5 paid will be turned into a voucher for £10 towards another Coach Trip of the person`s choice.
The coach leaves St. Margarets Bus Station in Leicester at 9.30am on Wednesday 23rd February, and is due to return about 2pm.
I will be giving a commentary as usual, and there will be a stop halfway round, where one can buy tea, coffee, cakes etc.
If you would like to take part, ring me on 0116 2611576.
Posted by colin on Wednesday 16th February, 2011 at 10:09am