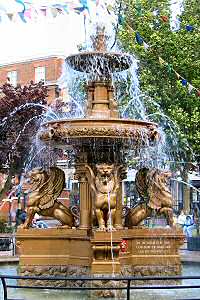 The Adult Education Centre at Wellington Street in Leicester asked me recently to lead a Guided Walk in the City Centre as part of Adult Learners` Week.
The walk was specifically for employees of Leicester City Council, and was designed to take place during a lunch break.
Leicester is a very historic city indeed, and it must be a good idea for employees of the council to be shown aspects of the city`s history which are not necessarily immediately obvious.
Lasting half an hour, the walk was around Town Hall Square, starting outside the 1875 Town Hall. In fact I did it twice, so that staff with different lunchtimes could take part.
The walks drew a good number of staff, all of whom commented that they were amazed at how interesting they found it.
Posted by colin on Friday 25th June, 2010 at 7:32am