Rugby Football Museum (Rugby)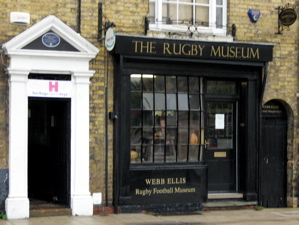 The Rugby Football Museum is, appropriately, in the pleasant Warwickshire market town of Rugby.
It is housed in the former retail premises of James Gilbert, who have been makers of Rugby balls since 1842.
The sport of Rugby football, now split into the 15 man Rugby Union code and the 13 man Rugby League game, originated across the road at Rugby School in 1823, when William Webb Ellis picked up the ball and ran with it.