Rugby School (Rugby)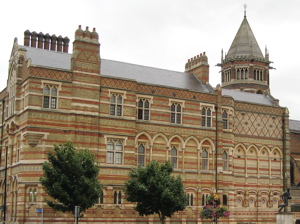 Rugby School is the most famous institution in the old Warwickshire market town of Rugby.
The school was founded by the local merchant Lawrence Sheriff in 1567.
But it was the great educationalist Dr. Thomas Arnold, in the period from 1828 to 1842, who brought it to national prominence as one of the country's top public schools, starting what came to be known as "muscular Christianity".
The novelist Thomas Hughes, himself an old boy of Rugby, made the public school ethos famous in his book "Tom Brown's Schooldays", set at the school. The school has a statue of Hughes.
Other old boys include the poet Matthew Arnold (son of Dr. Arnold); the First World War poet Rupert Brooke; mathematician and children's author Lewis Carroll; poet Walter Savage Landor; and novelist Peter Wyndham Lewis.
The school chapel was designed by the eminent architect William Butterfield.
An ancient mound in the school grounds was the scene of a demonstration by pupils, which led to the reading of the Riot Act.
Rugby football was invented at the school in 1823, when William Webb Ellis picked up the ball during a game and ran with it.