Tom Tower (Oxford)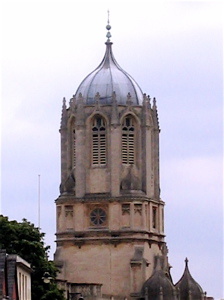 Tom Tower is a bell tower which is part of Christ Church (college and cathedral) at Oxford.
It is one of this famous university city's major landmarks.
The tower was designed by the outstanding architect Sir Christopher Wren, most famous for rebuilding the City churches, and particularly St. Pauls Cathedral, after the Great Fire of London.
The tower surmounts the gatehouse of Christ Church.
Tom Tower contains the bell known as Great Tom, which was cast in 1680 and weighs nearly seven tons.
It is rung 101 times each night at 9.05pm. The number represents the original number of Christ Church scholars, and when it was 9.05pm in Oxford it was 9pm everywhere else.