Christ Church (Oxford)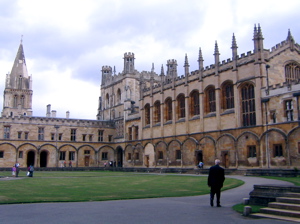 Christ Church is one of the most famous colleges that make up Oxford University.
It is also unique in that its chapel doubles as Oxford Cathedral.
It is situated in St. Aldates, on the way to Folly Bridge over the River Thames.
The college was founded by Cardinal Wolsey in 1525 as Cardinal College. Henry VIII refounded it, with its present name, in 1532, and again in 1546.
There is an enormous quadrangle, known as Tom Quad, which is the largest in Oxford. This is entered by Wolsey's Gate, over which is the distinctive tower named Tom Tower, built in 1682 by Sir Christopher Wren, the architect who rebuilt so much of London after the Great Fire.
The Great Bell in Tom Tower weighs over 7 tons. Each night it strikes 101 times at 9.05pm. This is the curfew, 101 being the number of students when the tradition was established. 9.05pm was local time, the equivalent of 9pm in the rest of England.
The splendid dining hall, created in 1529, was used in one of the "Harry Potter" films, and gave inspiration to Lewis Carroll, who wrote and told the "Alice" stories to Alice Liddell while at Christ Church.
Literary giants associated with Christ Church include W. H. Auden; Robert Burton; Lewis Carroll; Ben Jonson; John Locke; Thomas More; John Ruskin; and Philip Sidney.
The college owns splendid meadows by the river.
The chapel, which is also the cathedral, is on the site of the 9th century St. Frideswide's Nunnery. It is mainly of Norman date, with a 13th century tower. At the time of the Reformation it was an Augustinian priory.
The cathedral is England's smallest, but paradoxically has one of the largest areas of any English Diocese.
Thre is splendid vaulting in the choir, and the remains of the shrine of St. Frideswide. There are windows designed by Edward Burne-Jones and made by William Morris.
It was St. Frideswide's that figured in the atrocity in 1002 known as the St. Brice's Day Massacre. Ethelred the Unready gave orders that all Danes living in England outside the Danelaw should be killed. Most towns took this with a pinch of salt, but Oxford complied enthusiastically, herding them into St. Frideswide's and setting fire to it.
This was not only a highly immoral act - it was also extremely stupid. The Danes in England were until then by and large loyal to the English Kings, but this tnded to change their attitudes. Moreover, one of the Oxford victims was Gunnhild, sister of the feared Sweyn Forkbeard, and her husband. Sweyn was understandably not best pleased, and swore an oath of vengeance against Ethelred, eventually driving him out of the country and taking the crown himself.