The Oxford Story (Oxford)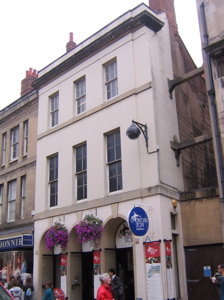 The Oxford Story is an interactive way to start learning about the history of the university city of Oxford.
It is situated in Broad Street, close to the city's Tourist Information Centre and very near to the site of the burnings of Hugh Latimer (fom Thurcaston near Leicester), Nicholas Ridley and Thomas Cranmer. These Bishops, burned at the stake during Queen Mary's reign in 1556, are the subject of the Martyrs Memorial.
The Oxford Story is operated on similar lines to the Jorvik centre in York and the Tales of Robin Hood at Nottingham.
Having first sat in a waiting room and viewing a short video, one climbs into a mechanical desk, which takes on along a track up to the top floor and back down again, in the meantime finding out about important aspects of Oxford's history.
There is a commentary (on headphones) spoken by Magnus Magnusson, while the children's version features Timmy Mallett.
The Oxford Story also has a gift shop, where of course souvenirs of the visit may be bought.