St. Michaels Tower (Oxford)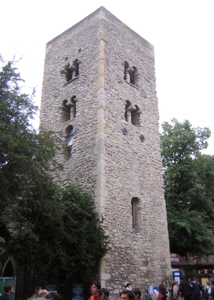 St. Michael's Tower is a church tower in the historic city of Oxford.
It is the tower of St. Michael-at-the-Northgate Church, and is the oldest building in the city, dating from the late Anglo-Saxon period.
The tower was formerly part of the defences of Oxford, being connected to the old Northgate by the Bocardo Prison, where Latimer, Ridley and Cranmer were all imprisoned before their martyrdom at the stake. The Martyrs Memorial was erected in honour of them.
In the church itself, there is stained glass dating from 1290, a 14th century font and a 15th century pulpit, from which John Wesley preached.
There is a charge to climb the tower, from which one gets excellent views over the city.