Oxford Castle (Oxford)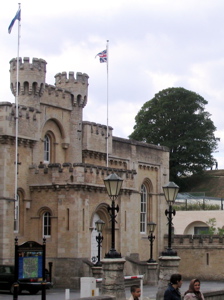 Oxford Castle dates from the Norman period, and is one of the historic features of the old city of Oxford.
During the Civil War in King Stephen's reign in the 12th century, the Empress Matilda, dressed in white, escaped with three companions and walked in the snow across the frozen River Thames to Abingdon.
There is a most impressive Castle Mound, situated near the railway station.
The site has now been opened to the public, and contains a visitor centre and gift shop, as well as the Malmaison Hotel.