High Street (Old Leigh)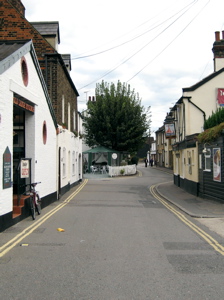 The High Street is the focal point of the picturesque Old Town of Old Leigh in Essex, known locally as Old Leigh.
Leigh was a fishing and shipbuilding centre, on the estuary of the River Thames. It is probable that the Mayflower was built here in the 17th century.
It still has a salty maritime air, and several wharves remain, some of which are still used for their traditional purposes. Beside Bell Wharf there is a nice beach.
The railway, running from Fenchurch Street Station in London to Southend and Shoeburyness, runs parallel with the High Street, just to its North, while the estuary is to the South. It was the railway that cut off much of Old Leigh from the more modern parts of the town.
A path contining the line of the High Street to the West leads to Leigh Station, past the famous cockle sheds. Freshly caught cockles and other seafood can be bought from the sheds or from premises along the High Street.
Continuing the High Street line to the East, from Bell Wharf, is the Cinder Path, which leads beside the railway to Chalkwell and on to Southend.
The High Street contains pubs, tea shops, heritage centre and galleries, and contains houses built of local yellow brick, as well as others using the local weatherboarding.