Market Place (Oakham)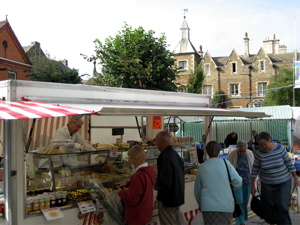 The Market Place in Oakham, the county town of Rutland, is the busy focal point of the town.
It is situated just off the High Street.
Oakham Market Place has a strange shape. Most of it is, or was, a rectangle (there is market infill), but there is a triangle attached to it.
The rectangular part was owned and operated by the Lord of the Manor, while the triangular piece was run by the Dean and Chapter of Westminster Abbey, who owned a considerable part of the town.
The rectangular part has the old town pump, with its own roof, while in the other part is the historic Butter Cross.
Among the significant buildings around the Market Place are the Whipper In, a former coaching inn, and some of the houses that make up Oakham School, founded by Archdeacon Robert Johnson in 1584, the same year that he founded Uppingham School.
A lane leading off the Market Place leads to the Great Hall of the Norman Oakham Castle.