St. Peters Church (Oadby)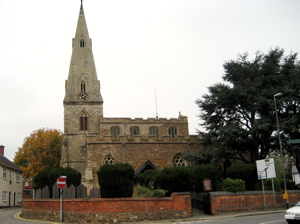 St. Peter's is the parish church of the little town of Oadby, just South of Leicester.
Dedicated to St. Peter, the disciple whose name was changed by Jesus from Simon, the church dates back to the early 13th century. The name "Peter" means "rock" - Jesus said that he would be the rock on which the Christian church would be built.
The church is on the corner of Leicester Road and Wigston Road, on what was the main road to London before the bypass (the present-day A6) was constructed. Most of Oadby's busy shops are up the hill (Leicester Road) in The Parade.
Standing outside the churchyard wall, in a prominent position visible from London Road, the road from Great Glen and Market Harborough, is the War Memorial, recording Oadby men who gave their lives in two World Wars.
One of the best-known inhabitants of Oadby was James Hawker, who wrote a book about his career as a poacher.