Top Hat Terrace (Leicester)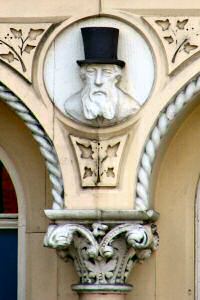 Top Hat Terrace is an unusual building in Leicester, situated in London Road opposite Saxby Street.
Originally known as Victoria Terrace when built in 1864, it acquired the name Top Hat Terrace because of the sixteen heads, carved in stone, that adorn the front of the building.
These are all of Francis "Tanky" Smith, a former policeman who became Leicester's first private detective. A master of disguise, he is believed to have been one of the men on whom Conan Doyle's Sherlock Holmes character was based.
He made his reputation and fortune when he was hired by the Winstanley family of Braunstone Hall to find James Beaumont Winstanley, the High Sheriff of Leicestershire, and discovered that he had drowned in Germany.
Top Hat Terrace was designed by his son James Francis Smith, who became a well known local architect.