Robert Hall Statue (Leicester)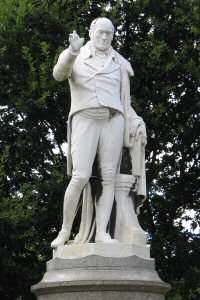 The statue of Robert Hall is situated in De Montfort Square, just off New Walk in Leicester.
Robert Hall was a celebrated Baptist preacher in the 19th century.
He was born at Arnesby, a small village a few miles to the South of Leicester, where his father was the Baptist minister, and started preaching at an early age.
He came to be regarded as the sort of preacher that people would travel many miles to see and hear.
Robert Hall was born in 1764, and died in 1831. The statue was unveiled in 1871.